The X-904 is the most user-friendly and safest way to transfer personnel via crane in an offshore environment. Billy Pugh Co. management group spent two years in collaboration between BPC, HSE&Q managers, crane operators, rig managers and offshore personnel to create the most successful product in our history- the X-904. Our prototypes were surveyed by over 500 offshore workers for feedback on this design.   We conducted focus groups on what was needed to create the safest, most efficient and operationally superior product available in the world. Safety features include overhead & side impact protection, softer landings, ability to enter and exit quickly and quick release man positioning systems.   Finally we added designated area for luggage and a stretcher area for injured personnel.
Billy Pugh Company's 4 to 12 person transfer device is used to quickly and effectively transport personnel on and off of platforms. All X-904's are made of a sturdy and very durable aluminum skeleton that encompasses the rider to protect them from falling objects and any side impact that may occur. All models are equipped with quick release safety lanyards to provide safety and give the rider confidence while in transit. The X-904 is built above and beyond standard safety rules and regulations to provide a superior product to customers.
The X-904 is aged by the In Service Date which is the date the X-904 is removed from its packaging.  This date determines when the 6 month inspection and 2 year refurbishment should take place.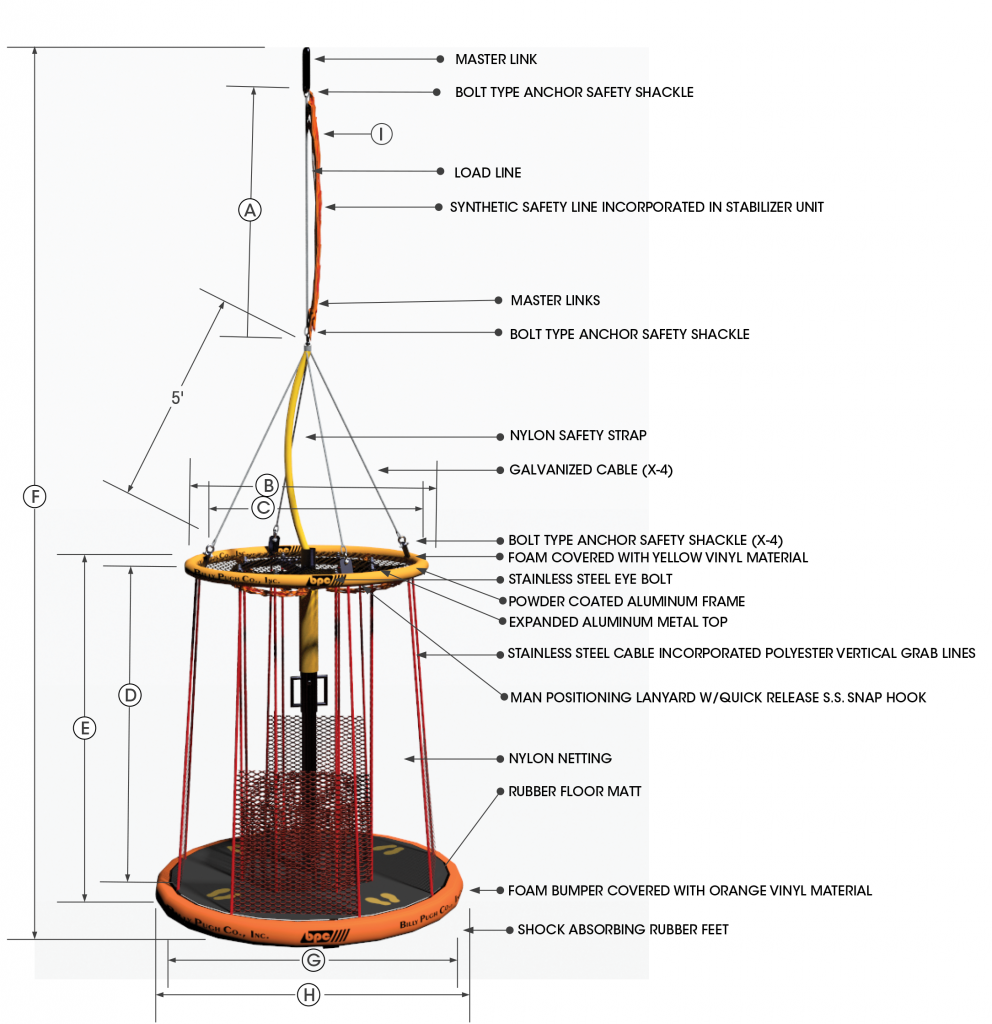 | SKU | Description | Dimensions | Weight |
| --- | --- | --- | --- |
| X-904-4 | 4 Person Transfer Device | 90" x 90" x 34" | 600 lbs |
| X-904-6 | 6 Person Transfer Device | 102" x 102" x 36" | 700 lbs |
| X-904-8 | 8 Person Transfer Device | 112" x 112" x 36" | 900 lbs |
| X-904-10 | 10 Person Transfer Device | 112" x 112" x 36" | 1000 lbs |
| X-904-12 | 12 Person Transfer Device | 120" x 120" x 54" | 1200 lb |
ABS certificate available

Collapsible for storage & shipping

Overhead protection

Refurbishment program

Shock absorbing bottom

Non-slip floor Lightweight aluminum frame construction

Double braid polydacron rope coated in urethane with stainless wire rope center

Comes standard with 20ft. stabilizer & load line

Training DVD

Stretcher space provided

Designated storage space
| Product | Description |
| --- | --- |
| Storage Cover for Assembled Transfer Device | Vinyl cover for assembled X-904; protects from UV rays and weather. |
| Storage Cover for Unassembled Transfer Device | Vinyl cover for unassembled X-904; protects from UV rays and weather. |
| TL-Carabiner | Steel Carabiner Self-locking gate with captive bar 3600lbs gate strength |