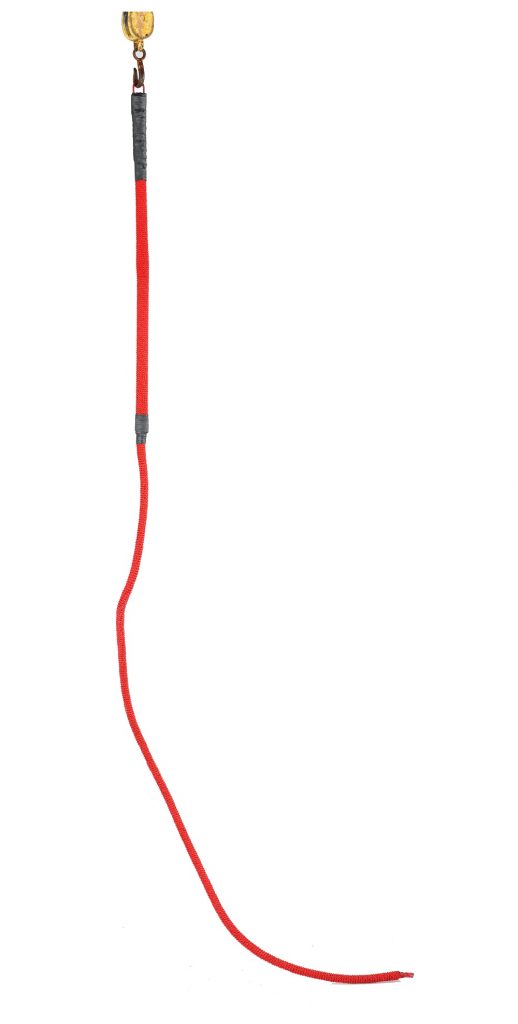 Whether it's a personnel transfer device or moving a  heavy or relatively light lift, taglines are designed to guide the load to the desired area- either on or offshore.  Taglines make it much easier for the worker and crane operator to make adjustments to the ultimate landing point of their slung load.  Unfortunately, if you are using a regular standard piece of rope for your tag line as a part of your lifting setup, liabilities and injuries are at a much higher risk.  These potential hazards are due to the possibility of a regular rope wrapping on an object (like a railing) or catching in a pinch point.  The Billy Pugh Co. tag line makes both of those hazards highly unlikely- making your entire lifting program safer.
Billy Pugh Company's taglines are made of polydacron rope and dipped in liquid polyurethane which saturates the rope to make it one of the most durable tagline available in the market.  This also provides a non-slip gripping surface by incorporating horizontal wraps either wet or dirty. Our taglines are highly resistant to wrapping (due to their unique construction) or catching on pinch points as they have no knots or raised areas. They are also far less affected by deterioration from UV rays because of their urethane coatings.
Do you have a "Hands Off" working environment?
Billy Pugh Company designed a Push/Pull Tag Line specifically to meet the challenges associated with positioning loads while observing a hands-free policy.  We've incorporated a 4 ft. rigid section into our already durable tagline that is sturdy enough to push the load to a preferred location but flexible enough to bend.  Our goal is to help you provide the safest working conditions possible by equipping you with  dependable and long-lasting products.
Model
Description
Diameter
Sample Lengths (Custom lengths available)
CTL-1
5/8″ NO DIP, NO WRAPPING, STAINLESS STEEL THIMBLE EYE ON ONE END (DOES NOT CONFORM TO API STANDARDS)

0.625″
10′, 15′, 20′, 25′, 30′, 35′, 40′
PTL-1
Comes standard with our X-904.
1 1/2″ OVERALL DIAMETER, DIPPED, WRAPPED, STAINLESS STEEL THIMBLE EYE ON ONE END (CONFORMS TO API STANDARDS)

1.5″
10′, 15′, 20′, 25′, 30′, 35′, 40′
RPTL-1
Rigid Tag Line – Push /Pull 4Ft rigid section – Offers "hands off" control when moving or guiding an item.
1 1/4″ OVERALL DIAMETER, DIPPED, WRAPPED, STAINLESS STEEL ROD EYE (CONFORMS TO API STANDARDS)

1.25″
10′, 15′, 20′, 25′, 30′, 35′, 40′
* All tag lines can accommodate a carabiner.
Patent Number: 8469339
Request a Quote!
Would you like a product now?  Use our simple form to request a quote today.
Looking for a Document?
Visit our support section for all of your Specialty Product's documents and certificates.